Summary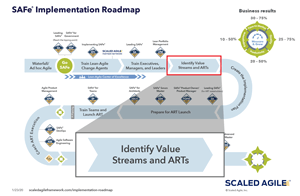 During this 4-hour session, attendees will be presented with a structured approach to define their Value Streams and Agile Release Trains. We will outline requirements, internal & external dependencies, internal & external customers, definitions of value, the systems that supply the value and the people needed to generate it.
Learning Goals
Examine the importance of Value Streams for continuous flow
Identifying Value Streams and ARTs
Optimizing ARTs based on Coordination requirements, dependencies, Epic distribution, and organizational change impact
Defining next steps for ART launch
Prerequisites
List of current organizational challenges
Current Resources and Skillsets
Understanding of the organization's customers
Flow of Value from the customer's journey perspective
Business Alignment to the customer's journey
Current Portfolio(s)
Who Should Participate
Executives and Leaders
Directors
Managers
Scaled Agile Program Consultants
Agile Coaches
Change Agents
Duration
This workshop will be conducted in a one day - 4 hour session.